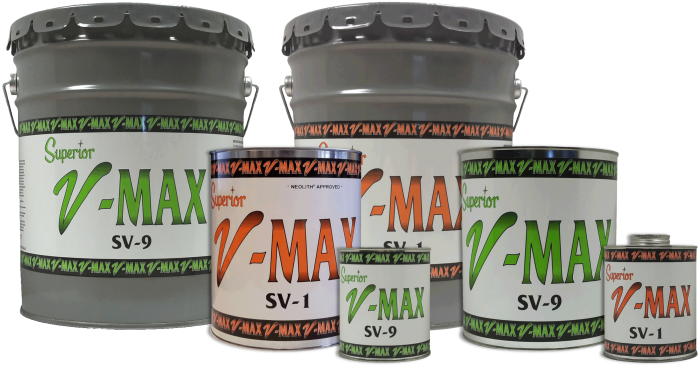 Superior V-MAX
100% PREMIUM VINYL ESTER ADHESIVE
Made from specially formulated Premium Vinyl Ester resin. The strongest bonding pure vinyl ester adhesive in the stone industry and the most translucent vinyl ester adhesive from "CAN-TO-CURE".
V-MAX adhesives are very light / white (pearlescent) in color making them ideal for seaming, mitering, laminating, rodding and chip repair on all types of natural stone, engineered stone, sintered and ultra-compact surfaces.
These adhesives are 100% Vinyl Ester stone adhesives formulated with the most exclusive, premium resin available.  Providing the strongest bonding of all 100% Vinyl Ester adhesives in the stone industry.
V-MAX is available in 2 viscosities (See Viscosity Chart Above)
–  Natural Stone: including granite, marble, slate, quartzite, sandstone, onyx and more!
–  Quartz Surface: including Caesarstone®, Silestone®, Cambria® and more!
–  Solid Surface: including Corian®, Formica®, Wilsonart® and more!
–  Sintered Stone: including Neolith®, Dekton®, and other ultra-compact material!
| | |
| --- | --- |
| Consistency: | SV-1 Syrup / Pourable |
| Consistency: | SV-9 Thick Paste |
| Mix Ratio: | 1% – 3% BPO |
| Gel Time: | 3 – 4 minutes |
| Cure Time: | 20 minutes |
| Shelf Life: | SV-1 / 6 mos. – SV-9 / 6 mos. |
| Location | Indoor |
| Use With: | Natural and Engineered Stones |
| SV-1 Uses: | Laminating, Rodding, Crack Repair, Chip Repair |
| SV-9 Uses: | Seaming, Laminating, Miter Joints, Crack Repair, Chip Repair |
Be sure to TEST each substrate for bonding and appearance prior to the actual application. Use: To achieve the best results, the contact surfaces must be thoroughly cleaned and dried. Before adding the hardener, the resin may be tinted with Superior Coloring Paste to match the color of the stone. The resin is then thoroughly mixed with no more than 1%-3% of the white paste hardener (BPO) by weight. At a temperature of 70°F (21°C), the mixture stays workable for 4-6 minutes. Higher temperatures shorten the working time and lower temperatures extend the working time. After 20 minutes, the adhesive is fully cured and work can continue with the stone. For white marble, be sure to test for shadowing and color match prior to application. For indoor applications only. Storage: Store indoors at room temperature. Do NOT store above 75°F (24°C). High heat and cold temperatures will adversely affect the shelf life. Avoid storage in direct sunlight and where freeze/thaw conditions may exist.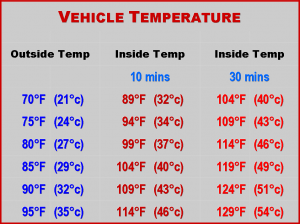 | | | |
| --- | --- | --- |
| V-MAX | SV-1 | SV-9 |
| Quart | ✓ | ✓ |
| Gallon | ✓ |  ✓ |
| 5-Gallon Pail | ✓ |  ✓ |
| THE BIG BOX (Standard) | ✓ |  ✓ |
| THE BIG BOX ENHANCED | ✓ |  ✓ |
V-MAX is certified for use with Neolith® sintered stone.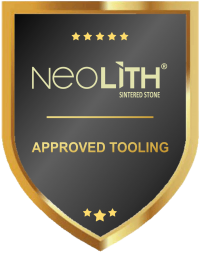 V-MAX is available in 2 viscosities…
SV-1 Flowing (Pourable)
SV-9 Thick Knife Grade

Not just better...
Our Company
Superior Stone Products has been built on a simple premise‐‐
Offer the best stone products in the world and back them up with world-class service and support. We are dedicated to serving the needs of today's stone industry professionals by providing the best products. Everything we do is not just better...it's SUPERIOR!