QUALITY IS NOT EXPENSIVE…
IT'S PRICELESS!
TECHNOLOGY • INNOVATION • QUALITY • PERFORMANCE • PACKAGING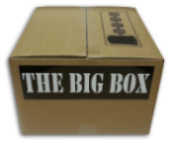 Innovative Packaging
We invented THE BIG BOX!
THE BIG BOX-Standard
(for local drop-off or store pick up)
THE BIG BOX-ENHANCED
(for damage-free shipments)

Neolith Approved Adhesives
Superior GOLD, Superior FUSION & Superior V-MAX are ALL Neolith Approved!
Sintered & Porcelain materials are demanding applications requiring premium adhesives!
Fresh is Best
Adhesives have a limited shelf life.  "FRESH" is best!
Have your imported adhesives been in a hot / cold shipping container for 2-months?
Excellence is our company's philosophy in everything we do.  We set the highest quality standards in development, manufacturing and our demanding quality control process.
Superior Stone Products has been the world's premier stone adhesive manufacturer since 1997.  Our adhesives are the benchmark by which all other adhesives are measured.
Not all adhesives are created equal. We are a true chemical company utilizing research, development and expertise in adhesive and stone care technology to manufacture the absolute best products.
Ours are the highest quality adhesives available to the natural and engineered stone market. Primary uses include mitering, seaming, laminating, rodding and repairing all types of stone.  Our technology includes Modified Acrylics, Modified Vinyl Esters, Vinyl Esters, Polyesters, Epoxies & more!
Granite • Marble • Sintered • Porcelain • Quartz • Quartzite • Solid Surface • Soapstone • MORE!
Our adhesives are perfectly engineered for your specific use.
"Superior" is the preferred name in stone adhesives.  Proudly manufactured in the U.S.A.
Our Company
Superior Stone Products has been built on a simple premise‐‐
offer the best stone products in the world and back them up with world-class service and support.
We are dedicated to serving the needs of today's stone industry professionals by providing the best products.
Everything we do is not just better…it's SUPERIOR!